First of all, I don't perform for children. The material I do just isn't a good fit for kids. That doesn't mean though that I haven't been at an event where there are a few kids running around. So, here's one situation that I'll never forget.
I was hired to perform walk-around magic for a corporate event in NYC. The plan was to perform magic for the cocktail hour, take a break and eat dinner, and then finish up the evening with another hour of walk around after some speeches and awards. Nothing about this gig hinted that there'd be kids there. However, there was one, the client's seven-year old son, Max. Max was pretty high energy. I knew that if he saw me perform, I'd have him following me around all night. Now, that's not a bad thing. I just figured I might be able to dodge the bullet.
For cocktail hour, I managed to avoid Max by strategically performing on opposite ends of the room from wherever he was. I successfully made it to dinner. After the speakers were done, I was back to work with one hour to go. Max was too busy sprinting around the room to notice me, so my chances were looking pretty good. I was down to the last fifteen minutes of my gig. I always like to perform for the client that hired me so I went to his table last. I figured I'd do a small formal set for him and his friends.
I started out strong with some table work on my close-up mat and within a minute of performing, Max jumps out from under the table right in front of me. So, he's literally standing with his head about three inches from the cards. I was performing Three-Card Monte and he kept turning all three cards face up after each phase. Now, the audience found this cute and adorable, however, my thoughts were a little different. The magic wasn't important to this group any more. They were now reacting to how I'm handling this kid that's stealing the show. I needed someway to keep Max busy, but also close strong with the audience.
So, here was my solution. I asked Max if he wanted to help me with the next trick. Of course, he said yes. I told him he had to do exactly what I said to do otherwise the trick wouldn't work. He agreed. The rest of the audience thought it was great that I'd incorporate Max into the act. I walked about twenty feet away from the table and asked Max to join me. I showed him the top two cards of the deck, which were just two random cards. I told him that if he stood on these cards, covering them completely, they'd turn into Aces after a few minutes. Now, Max was pretty excited to see this miracle. After he placed one foot on each card, he asked if he could peek again to see if they were still there. I allowed him one last peek. Once he confirmed that both cards were still there he covered them up again.  Max stood there excited beyond belief that these cards were about to change right under his feet.
I walked back to the table and continued to perform. This worked out perfectly because the audience knew what I had done and they thought it was a clever fix. Max offered plenty of opportunities for call back jokes as he chimed in every few minutes asking if it was okay to look yet. Of course my response was that we needed "just a little more time or it won't work." I was now on my last effect for the group at the table, wowing them as I had planned. Max was no longer an issue. I was all set to deliver my big finish and—Max is back. He's popping his head up right in front of my hands and turning cards face up again. I said, "Max, your trick won't work now! You've got to start it all over." He said, "No, I don't." We all turned around and twenty feet away in the middle of the room there was a pair of little kids shoes sitting on the floor perfectly covering two playing cards. I hate to admit it, but Max won that day. My set still had a great finish when Max saw those cards were indeed now Aces!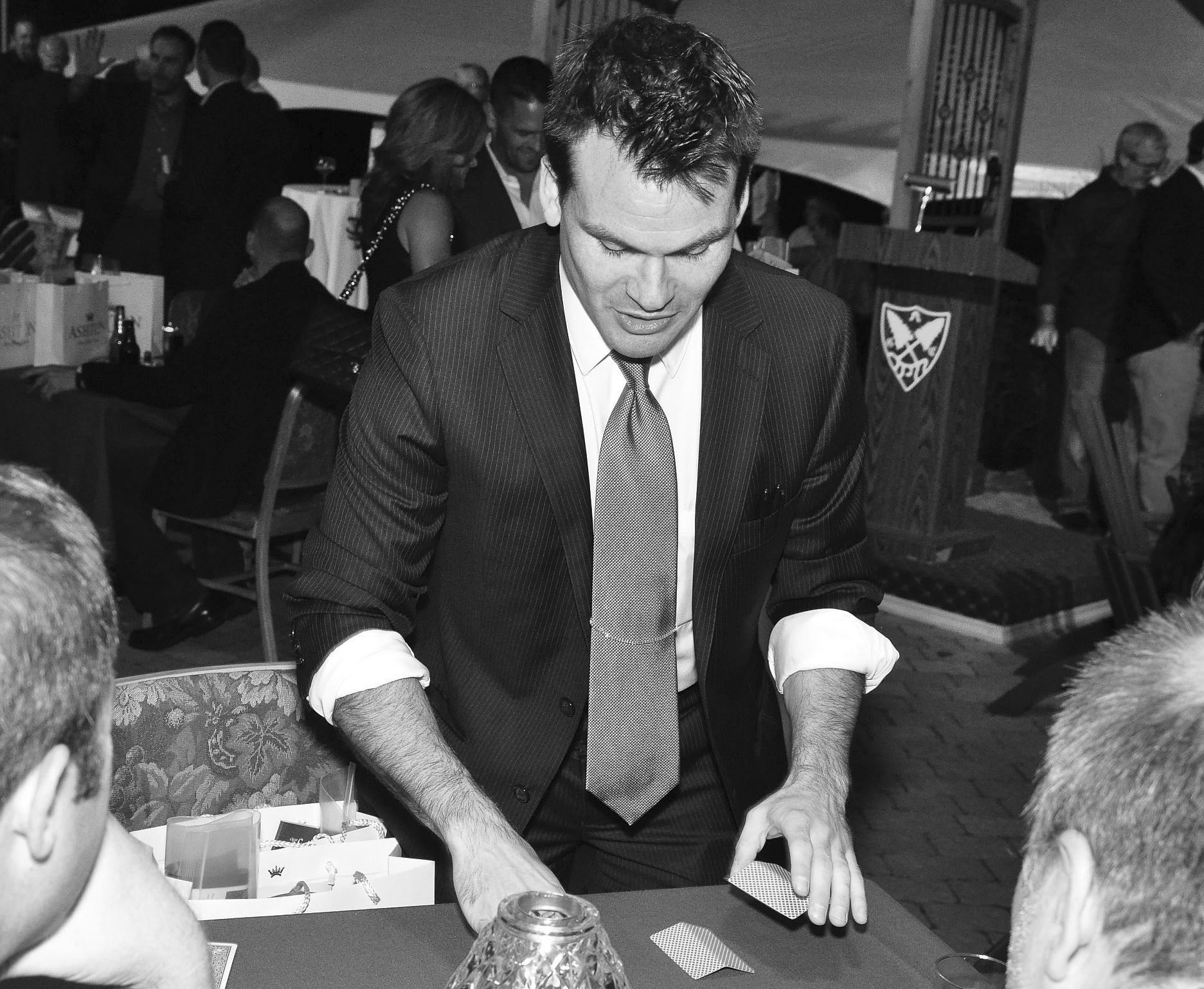 While I have your attention, watch my FULL SHOW at the Magic Castle right here: